AZURE BACKUP: THE ENTERPRISE-CLASS BACKUP SOLUTION
Wednesday, July 27, 2022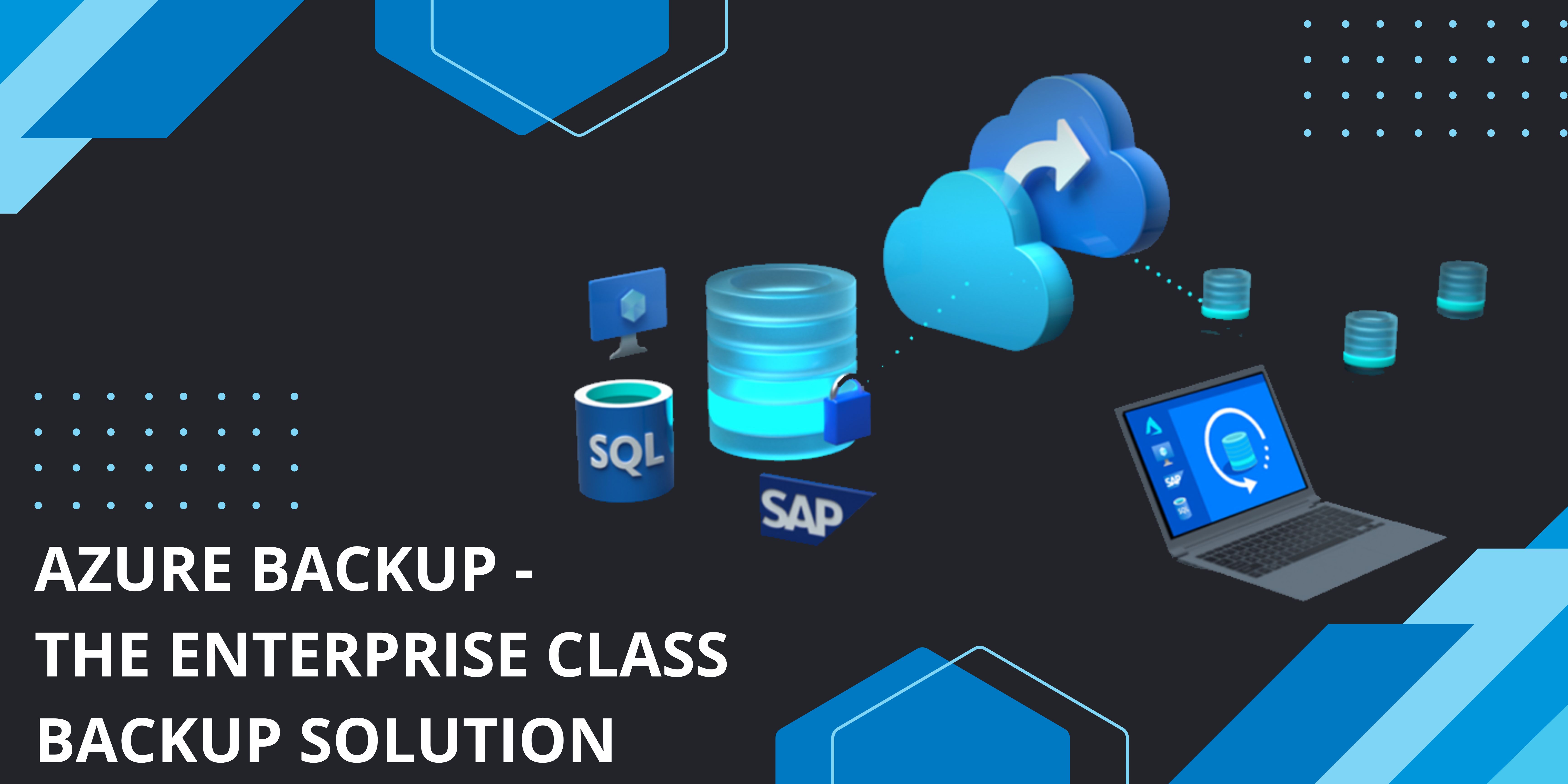 Azure service that provides secure and zero-infrastructure backup solutions for all Azure managed data assets.
 
Azure Backup is a cost-effective, secure, one-click backup solution that is scalable based on your backup storage needs. The centralised management interface makes it easy to define backup policies and protect a wide range of enterprise workloads, including Azure Virtual Machines, SQL and SAP databases and Azure file shares.
 MANAGE AT-SCALE
Manage and monitor your entire back-up estate from a central console with Back-up centre.
Stay compliant by enforcing back-ups at scale with Azure Policy.
Audit and analyse back-up data using the historical data and patterns shown in Back-up reports.
Use APIs, PowerShell, and Azure CLI to automate back-up policy and security configurations.
Export cloud back-up data to your own monitoring systems in a secure and performant manner.
SECURE
Grant fine-grained access to users for specific back-up operations using role-based access control (RBAC).
Prevent accidental data loss by retaining back-ups for 14 days after deletion with soft delete.
Protect data against ransomware attacks by enabling multiple-user authentication as an additional layer of authorisation for critical operations.
Fully control how to protect and access your data with customer-managed keys that use 256-bit AES encryption.
Enable secure transfer of back-ups to Azure Back-up storage with private endpoints.
Ensure availability with zone- and geo-redundant storage and the ability to restore back-ups from a paired region at any time.
COST EFFECTIVE 
Eliminate extra costs of additional back-up infrastructure and overhead for scaling and managing storage.
Optimise back-up cost with patterns and insights under Back-up reports to right-size your back-up storage.
Send recovery points to the archive tier for significant savings in storage costs and compliance with your long-term retention needs.
Selectively back-up disks within an Azure Virtual Machine to customise your back-up solution and reduce storage costs.
Estimate precise costs with the Back-up pricing estimator.
DIVERSE WORKLOAD SUPPORT
Back up all your infrastructure, databases, and storage workloads with ease from a central location.
Get application-consistent snapshots of Azure Virtual Machines running on both Windows and Linux.
Protect mission-critical infrastructure-as-a-service (IaaS) and platform-as-a-service (PaaS) databases such as SQL Server and SAP HANA in Azure Virtual Machines as well as Azure Database for PostgreSQL.
Generate agentless crash-consistent snapshots of Azure Disks.
Safeguard against data loss with Azure Files and Azure Blob Storage.