A disaster recovery plan aims for business continuity of any businesses after a disaster strikes, be it of any kind in nature. IT disasters such as data centre failures, server corruptions, or cyber-attacks or Natural calamities can not only disrupt your business, but also cause data loss, impact your revenue, and damage your reputation. A report by The National Archives and Records Administration stated 43% of the enterprises that lack a proper disaster recovery plan will go out of business after a data loss event. In today's digitalized environments, all operations are system-driven, and software controlled. In the event of failure in data Centre, we need proper DR Centre with both compute and storage for business continuity. The damages business should incur without business continuity will be very high. So, the importance of DR is incredibly important to any type of businesses.
A proper disaster recovery plan should have a proper DR site hosted in a different seismic zone. The live data will be replicated to the DR site using replication software and is properly monitored. Most of the large businesses will do DR drill to monitor and analyze the working of the DR site and to verify that, in the event of DC failure they can continue the business from DR. Earlier all DR sites use to be a replication of data Center, and it outlays lot of investment which we may use sparingly. Due to this large businesses only use to create the DR. Cloud-based Disaster Recovery solutions minimizes downtime and data loss by providing fast, reliable recovery of physical, virtual, and cloud-based servers in an economical model. This helps to create DR for any type of business, be it small, medium, or large.
Neural Networks is equipped with a qualified, Certified, learned, and skilled staff that can help you develop an infallible disaster recovery plan to minimize downtime in an adverse event and ensure absolute business continuity.
Microsoft Azure Site Recovery ( ASR )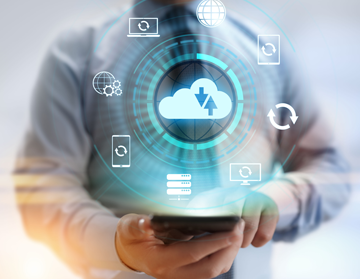 Microsoft Azure Site Recovery ( ASR )
ASR is a highly recommended cloud-hosted data recovery service offered by tech-giant Microsoft. Azure site recovery is a foolproof disaster recovery solution. It keeps all your files synced and you, prepared for any kind of data disruption. ASR replicates your workloads and saves them on a secondary site which makes it easier for you to still have access to your workloads even during an outage. ASR supports both physical workloads on platforms such as Linux or Windows and Virtual workloads such as VMware and Hyper-V. ASR is highly customizable and with help from our managed IT specialists, you can develop a disaster recovery plan as per your business requirement to make your business fault-tolerant and keeps it running smoothly.
AWS Cloud Endure
AWS Cloud Endure
Cloud Endure Disaster Recovery provides an easy solution for replicating and recovering workloads from on premises Data Centers or other cloud providers to AWS. It automatically converts your source machines so that they boot and run natively on AWS. Cloud Endure solution that enables the recovery or continuation of vital technology infrastructure and systems in case of a crippling event. Instead of loading the servers with the OS and application software and patching to the last configuration used in production, cloud disaster recovery encapsulates the entire server, which includes the operating system, applications, patches, and data into a single software bundle or virtual server.
Cloud Endure Disaster Recovery to protect your most critical databases, including Oracle, MySQL, and SQL Server, as well as enterprise applications such as SAP. Cloud Endure Disaster Recovery continuously replicates your machines into a low-cost staging area while still being able to launch fully provisioned machines within minutes, In the case of a disaster, you can instruct Cloud Endure Disaster Recovery to automatically launch thousands of your machines in their fully provisioned state in minutes. Cloud Endure Disaster Recovery can significantly reduce the cost of your disaster recovery infrastructure.